About Weekend Warrior Racing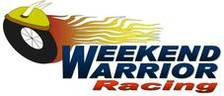 Weekend Warrior Racing was started by Alan Olson to share his racing experiences with his friends. Alan offers Driver Coaching to assist those drivers that wish to improve their existing skills. Alan is also a driving instructor with BSR instructing Counter-Threat and Evasive Driving skills to many DoD and State Dept. Employees as well as Public and Private Security Personnel from various other countries.

We are located at Summit Point Motorsports Park in Gasoline Alley. We already have 3 Championships under our belt and are looking forward to many more.
---
The
News
page contains updates from our recent events. We try to update Monday after each weekend, but sometimes we are a bit later.
The
Calendar
has now been updated through August 2012 and others will follow shortly.
The
Sponsors
page has been updated to show our main sponsors The ALS Association and Fuller Friends, please view these and if possible visit their sites. If you feel compelled to make a donation, the information to do so is a click away!
The
Team Members
page has also been updated and will continue to be updated with additional drivers, crew, etc.
Regards,
Webmaster